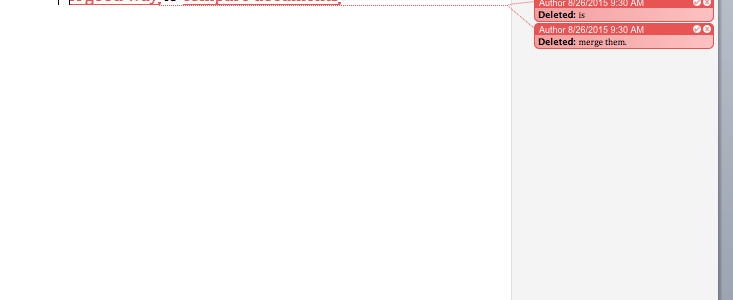 70383 Views
Merged Revision Process
shared by ISUComm
on August 18, 2014
Activity Summary:
This activity using "merge documents" function in Microsoft Word helps students and instructors to easily see the changes made in the revision process for the final draft or portfolio.
Instructions:
"In English 150 and 250, we are implementing a process-oriented approach for every major assignment, which requires students to substantially revise as well as proofread their earlier drafts. Also, at the end of the semester, they are supposed to submit portfolio for which they should revise earlier assignments and describe what was added, deleted, changed, or reorganized. However, it is not easy for both students and teachers to see whether they considerably revised their essay or merely corrected minor mistakes until they compare the original and final drafts line by line. This activity helps students and instructors to easily see the degree of revision and reflect or evaluate their writing process. As this activity needs Microsoft Word, it works best in a computer lab."
1. Ask students to save two drafts that they want to compare on the computer.
2. Open Microsoft Word.
3. Go to "Tools" on the menu bar and click "Merge Documents".
4. Then, a small window will pop up. For the original document, select the earlier draft of their essay. For the revised document, select the final draft. Then, click OK.
5. Then, a new document will show up in which all the changes they made are presented in a different color. By looking at the comment boxes on the right side, they can immediately see what kinds of changes were made. In order to see all these changes and comments, they need to select "final showing markup" in the tracking setting.
6. In pairs or groups of three, have them discuss what kinds of changes (e.g., add, delete, format) and what level of changes (word or phrase level or beyond sentence level) they made.
7. Have them discuss why they made such changes and what improvements or effects they expect by doing so.
8. Ask them to evaluate whether they considerably revised their draft or merely corrected minor mistakes.
* They can also do the steps 6-8 with the instructor when they have the second individual conference to discuss their portfolio.
* As an instructor, you can use this function when evaluating portfolio. By having a computer do the comparison and highlight all the changes, you easily identify the changes they made without spending too much time.