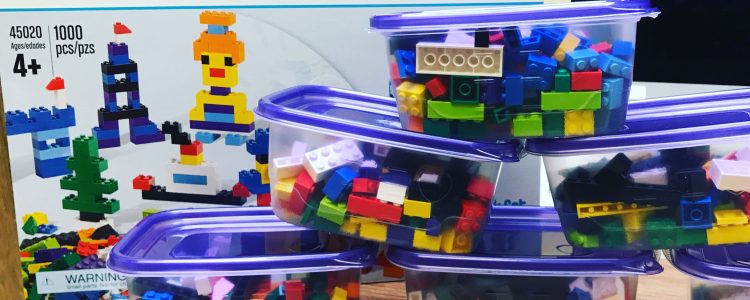 15003 Views
Lego Instruction Guide [Contest Example]
shared by lamalone
on October 10, 2017
Activity Summary:
Students create an instruction guide to practice visual and/or oral communication.
Instructions:
Team Name(s): Lauren Malone; Derek Hanson
Concept(s) Practiced: Visual communication; Oral communication
Assignment Type: Group activitiy
Materials Needed
Legos
Six (6) Tupperware containers
Notecards
Extra cameras (for groups w/o smartphones)
Directions (Designed for T/Th 80 min. classes. Adjust to your own class timeframe.)
Prior to Class:
Separate Legos into six (6) Tupperware buckets.
Write one group name on each notecard

Place notecard in the bottom of the bucket
Make sure these stay with the designated bucket!

Reserve extra cameras in case students do not all have phones
During Tuesday Class:
Break students into groups of four (4).
Explain the task: You must build something using all of your Legos, and design an instruction guide for your creation. You may use as many pictures & symbols as you want, but NO TEXT.

Students will have ten (10) minutes to brainstorm/play. Decide in that time what your team will build.
Designate roles – Builder(s), Photographer(s), Designer(s), Timekeeper(s)
Make sure that once you start actually building your creation, that the Photographer(s) is taking pictures as you go. You don't want to start from scratch.
You have the next thirty (30) minutes to build your creation and take pictures for your instruction guide.
You have the final twenty (20) minutes to customize your instruction guide. Finish for homework and submit on [Your class management system/forum/email].

I create a folder in Google Docs, and give the Designer from each group access. That way they can upload their own, and access it on Day Two.

Hand out the Lego buckets & start.
Make sure to keep track of time!
Collect Lego buckets with
During Thursday Class
If you have not already, make sure the teams have access to each other's instruction guides.
Hand out the Lego buckets again. This time, each team gets another team's bucket, and will be looking at that team's instruction guide.
Give them fifteen (15) minutes to build the other team's creation.
Discuss as a class what aided/hindered your understanding of this piece of visual communication
Discuss rhetorical design choices.
Modification:
Instead of having the students use the guide themselves, you can have one member from each group rotate, and give verbal directions based on the guide.
To do this, have the rotating instructor take their team's bucket of Legos and instruction guide with them when they move.